To say we've gone through a lot of change in the past year is an understatement. We've learned so much about ourselves, our clients, our business, our community, and our Chartier family, which has fostered incredible growth within the walls of this small little restaurant in Beaumont.
We're so excited to announce the growth and development of two Chartier family members in particular, Tamara Solon - our new Sous Chef, and Zach Eaton, our new Chef de Boulangerie and Recherche.
We had put the word out that we were looking for a new sous chef, and had an incredible response from the #yegfood community (big thanks to all of you who helped spread the word...you're all unreal!).
After lengthly rounds of interviews, we were delighted to award the position of Sous Chef to our very own Tamara Solon. Her passion, dedication, and organizational superpowers have made her an invaluable member to our team - and we're incredibly lucky to have her as our Sous Chef.
In addition, our very own Zach Eaton was awarded the position of Chef de Boulangerie et Recherche. Rolls off the tongue, right? This new role puts him in the driver's seat of our bread window, retail section, and producer/supplier relationships to ensure we know exactly what amazing product we can source right here in Beaumont, Edmonton, Alberta, and Canada. This guy oozes creativity and experiments with anything and everything......if you tried our basil & lime whoopie pies this weekend you know exactly what I'm talking about.
Want to know more about them? Take a read of their bio below :)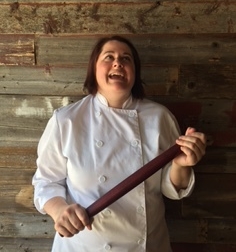 Growing up in Edmonton, Tamara was always fascinated by the variety of cultural foods available right at her doorstep. She comes from a close knit Ukrainian family where food was always the centre of any family function, and she loved the fulfilment she got from watching her Grams feed the entire bunch at every special occasion.
Heritage and the passing down of family recipes was always a hobby of hers and when the opportunity came to go back to school she chose to follow that passion and attend the culinary program at NAIT. She graduated in April of 2016 and has been a proud member of the Chartier family since day one. Tamara has lead the jam, jelly and preserve procurement to date, and is the madwoman behind our amazing soups and daily lunch features. She values creativity, and enjoys the opportunity to flex her creative muscles as much as possible right here in Beaumont.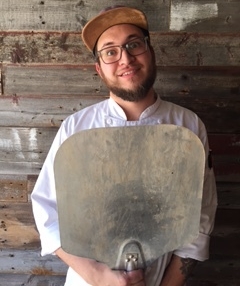 Chef de Boulangerie et Recherche
Zach began his restaurant career at 15 as a dishwasher. After working part time as a cook while earning a degree in Psychology he realized that food was his true passion and chose to pursue a career in hospitality. After several years of cooking at franchise and independent restaurants such as the Blue Chair Cafe, Zach enrolled in the culinary program at NAIT. He joined the Chartier family shortly after graduating, and has been with us for just over a year. If you're a fan of our bread window, you've likely seen his smiling face behind the counter, working feverishly on experiments with new breads and pastries.
He finds inspiration in his cookbook collection, childhood memories, conversation with other food nerds, and his wife's (sometimes hare-brained) food ideas. He believes that food should be approachable, comforting yet adventurous, and above all else......delicious.