Restaurant
Celebrating our community and its unique roots in the
best possible way – by breaking bread together.
OWNERS SYLVIA AND DARREN CHEVERIE BRING YOU RUSTIC, FRENCH-CANADIAN CUISINE IN THE HEART OF DOWNTOWN BEAUMONT, AB.

The Dream
After finding each other, falling madly in love, getting married and supporting each other through the early years of their careers, owners Sylvia and Darren moved back to Beaumont for the birth of their daughter. With a growing family, they began to think about how they could contribute to life in Beaumont. This made them realize that they had come to a special point in their lives. A point where they can fuse their enduring dedication to their town, their entrepreneurial passion and their respective experience as a restaurant manager and marketing consultant to create a unique community space that connects people and celebrates local history.
The dream was to open Chartier: a rustic, Quebec French style brasserie in the heart of Beaumont. The concept is simple: great fresh food and drink in a relaxed environment.
That dream came true in 2015, with the help of Kickstarter. Chartier is the first successful restaurant Kickstarter campaign in Alberta, and the most successful restaurant Kickstarter in Canada. Learn more about the humble beginnings of Chartier on Kickstarter.
Welcome to Chartier!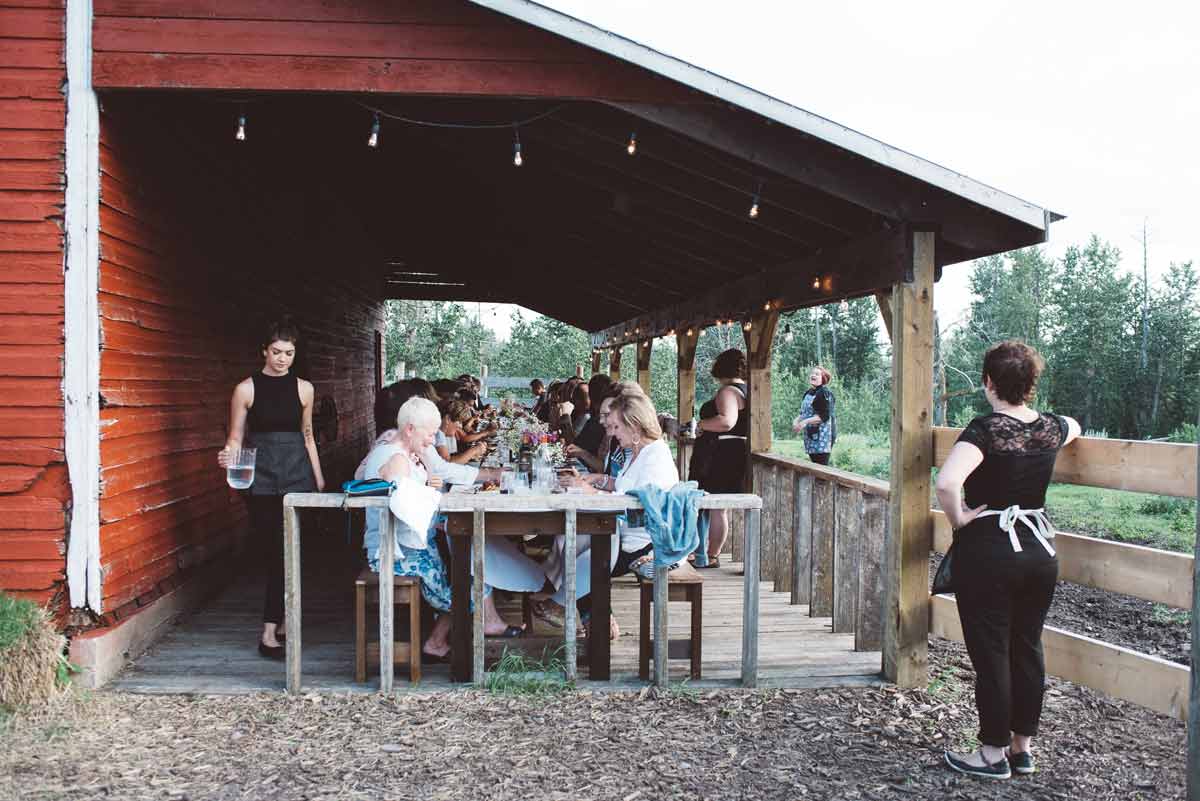 The Name
In 1895, when Beaumont was nothing more than a small French colony, Father Morin travelled to Ottawa to petition for a post office. With this petition, he presented a list of suggested names to give to the community. These were 'Beaumont,' 'Bellevue,' and 'Chartier.' Beaumont was selected by Jean Royer for the town and Bellevue was later used for our elementary school, but Chartier remained unused... Until now.
Our Team
We can't do this alone. Stemming from our passion for this community, we hire as many people as possible from our local community. If you live here, we're sure you will understand that life is better here.
Our food is an elevated take on rustic French-Canadian favourites. Picture tourtière better than your mamère's (sorry mamère), served with a slice of freshly baked homemade bread and a bold bourdeaux. Local duck roasted in our homegrown herbs. Beautiful charcuterie with imported and local cheeses.
Our food is for everyone. Not frilly, pretentious, or over-stylized... just wholesome local ingredients that taste amazing and fill your belly. Our goal and mission is that you leave FULL.
Drink
Good food deserves good drink, so we'll be sure you don't leave thirsty.
There is something magical about enjoying a great bottle of wine together with loved ones. Our wine list is a thorough, curated mix of old world varietals. Wine should effortlessly compliment your meal, not be a point of stress when it comes time to choose. At Chartier, we want to make good wine accessible and affordable. We can guide you through new selections or even give you a quick crash course to help you get started.
We source as many locally crafted brews for our taps as possible to give an alternative to mainstream brands. For those who look for a stiffer drink, a handful of unique scotches, whiskeys and other spirits are available - served in one of Chartier's signature muddled cocktails or customized to your liking.
Atmosphere
Chartier is in the heart of Beaumont, in Maina's Centreville.
The restaurant is warm and inviting, with exposed brick, rustic wood accents throughout will mix with modern touches to gently remind you that you're not actually in old town Quebec City.
Chartier is a love-letter to Beaumont, its history and our community. You'll find tributes to the roots of Beaumont spread throughout the room – maps, old photos, reclaimed wood from old barns around the town and, most importantly, a "family wall" acknowledging all the wonderful people who helped make Chartier come to life.